After not having slept well the night before (as usual), I was having an afternoon nap. At some point I woke up with a design in my head. I had to fight to stay asleep as this image kept popping into my head. When I did wake up finally, I couldn't immediately get to my tablet as I had a few things to do. I had to keep "repeating" this image in my head for fear it would be forgotten and lost forever.
After the various chores were finished, I sat down to create my "dream design". I made three simple leaves
using the digital airbrush
- one in lime green, one in Barbie pink and one in pumpkin orange. Then, with the thick and thin pencil, I added a curved line to represent the twig from which the leaves were growing and a few quick lines for veining on the leaves. When I woke up with that relentless image in my head there was something at the end of the twig, but I have no idea what it was and it seemed superfluous anyway. This was the resulting design:
I added it to several items in my Zazzle store. For all but the cloth products, I turned it 90 degrees and added a tone-on-tone beige striped background.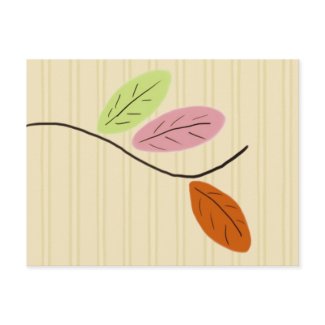 Now I think it may be time for another nap. Ya never know. ;-)